Meet Dr Isaac Edgar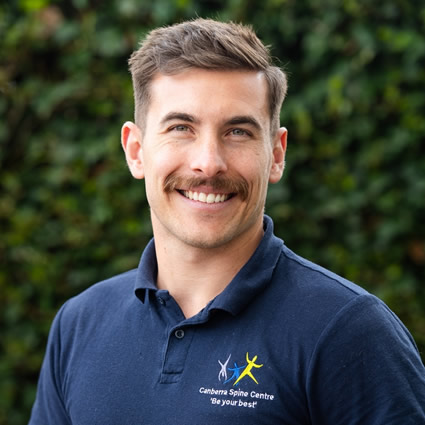 Dr Isaac Edgar is an enthusiastic practitioner whose spark for becoming a chiropractor came from receiving care from a young age. Receiving care at such an early stage of life allowed him to learn the importance of health and wellness, which then led to his developing a love for human body physiology and anatomy.
Isaac attended RMIT for 5 years, gaining a Bachelor of Health Science and a Bachelor of Applied Science (Chiropractic). Alongside this, Isaac is a qualified sports trainer and has attended chiropractic seminars in Melbourne, Newcastle, and New Zealand.
A Passion For Sports
Dr Isaac has a keen interest in sport and injury rehabilitation and is your go-to practitioner at Canberra Spine Centre for assistance in these areas.
Growing up in the country town of Albury, Isaac's childhood was filled with sport. Regular visits to the chiropractor for a range of musculoskeletal injuries ensured Isaac could perform at his best. They helped him reach several sporting achievements, such as representing the state of NSW in football, water polo, and basketball.
From age 16, Isaac represented the Murray Bushrangers in the TAC Cup football league and was monitored closely by allied health professionals. This, alongside work experience with the Hawthorn and Box Hill Football teams, ignited his interest in the human body and its workings.
Dr Isaac moved to Canberra in 2020 and has been helping thousands of patients with his special blend of skills and enthusiasm since then.
EXPLORE OUR SERVICES


Dr Isaac Edgar | (02) 6257 9400